Toepassing:
Het wordt hoofdzakelijk gebruikt in Al-legering, Mg-legering, ontzwaveling.
Grootte: 7.5KG ± 0.5KG
Verpakking: 500kg of 1000kg op houten of magnesium pallet netto elk, en kan ook volgens de eis van de klant worden gepakt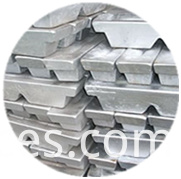 Chemische index:

Grade

Chemical Composition (%)

Others

(%)

Mg

Fe

Si

Ni

Cu

Al

Cl

Mn

Ti

First

≥99.95

≤0.004

≤0.005

≤0.0007

≤0.003

≤0.006

≤0.003

≤0.01

≤0.014

≤0.04

Second

≥99.90

≤0.04

≤0.01

≤0.001

≤0.004

≤0.005

≤0.005

≤0.03

-

≤0.1

Third

≥99.80

≤0.05

≤0.03

≤0.002

≤0.02

≤0.005

≤0.005

≤0.06

-

≤0.2
Bedrijfsprofiel
Hwa Seng Trading (Ningxia) Co., Limited, opgericht op 19 april 2012, werd goedgekeurd door de Administration for Industry and Commerce van de hightech industriële ontwikkelingszone Yinchuan. Met het geregistreerde kapitaal van 26 miljoen RMB en het geregistreerde adres van kamer 2-26, gebouw nr. 5, blok C-06, is Hwa Seng verhuisd naar Yinchuan uitgebreide bonded zone.
Hwa Seng Resources (Hong Kong) Co., Limited, opgericht in 2011, is een offshore bedrijf van Hwa Seng Trading (Ningxia) Co., Limited. Het is gespecialiseerd in export- en importactiviteiten.
Hwa Seng is een professioneel internationaal handelsbedrijf met importactiviteiten dat verwijst naar rode wijn, voedsel, cosmetica, babyproducten, dagelijkse benodigdheden enzovoort en exportactiviteiten die verwijzen naar ferrolegering, chemische producten, goji-bessen, moslimbenodigdheden, kleding enzovoort.
We hebben niet alleen een team van kernbeheerpersoneel met rijke ervaring, professionele vaardigheden en uitstekende Engelse vaardigheden, maar hebben ook stabiele en permanente verkoopkanalen en klantenrelaties in binnen- en buitenland, wat gunstig is voor de ontwikkeling van de onderneming en de uitbreiding van overzeese markten.
Aandringend op de werking modus van producten diversificatie, markt internationalisering en professionalisering van het management, en vast te houden aan het management geloof van eerlijkheid en win-win-samenwerking, Hwa Seng verwelkomt vrienden in binnen-en buitenland om met ons samen te werken voor een briljante toekomst.
Product Categorie : Ferroalliages > Magnesium ingots